Hey everyone!
I wanted to let you all know that EVERY Monday night, Empower Network holds it's "Empower Hour" call, which anyone can dial into and get a flavor for what is talked about within Empower Network.  Sometimes it's inspirational, sometimes they talk about upcoming products and promotions.  They ALWAYS talk about what it's like to not have to go to a regular job and work a miracle business from home.  You're sure to find something that inspires you on the call.  So, if you listen in and find that you've found what you are looking for, or feel that this is something that you would like to get into or hear more about, GET ON THE MONDAY Empower Hour CALL!  It's open to everyone.
Dial This Number (209)255-1040
If you miss it don't fret, the replay number is (209)255-1049 Access Code: 498575#
…and get back to me when you want to get into the best thing out there today.  I already know this, but if you're new you may need some time to let it all sink in.  That's okay, take as much time as you need, but when you're ready, I'll BE HERE!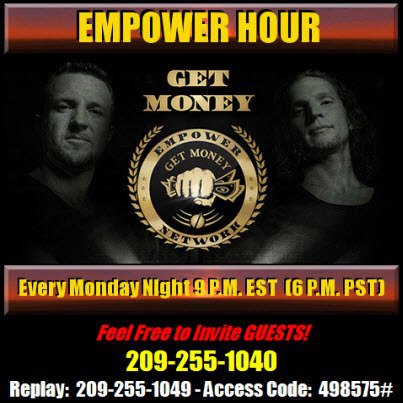 { 0 comments }