The Empower Network blog is a system where you can blog from anywhere with an internet connection and produce content that is searched for on the internet.  You provide the content and the search engines provide the visitors.   The blog itself is a WordPress powered custom blogging platform called Kalatu, which is a blog by marketers for marketers, and you can use your own domain name if you choose.
How Does the Empower Network Blog Look?
Note: This article was for the original EN blog.  It was a great blog, but it was upgraded to a version 2 called "Blog Beast", which had some nice features, but lacked others.
The latest version has moved back to a WordPress core and is MUCH easier to use than either.  You can use it at the parent domain in a folder of your naming, or map your own domain to it.
The best way to get onboard with a done for you and customized WordPress blog that is turnkey and hassle free, without all of the headaches and extra expense of hosting your own blog, is to get in NOW and get your own set up TODAY.
I will leave the following review of the version 1 Viral Blogging System here for reference.
========
These below are old, the earlier version.  See the newer version here.
========
I'm glad you asked.  It's got a few theme layouts that you can choose.  I originally went with the original theme but recently changed it to a more minimal look.
Theme select area: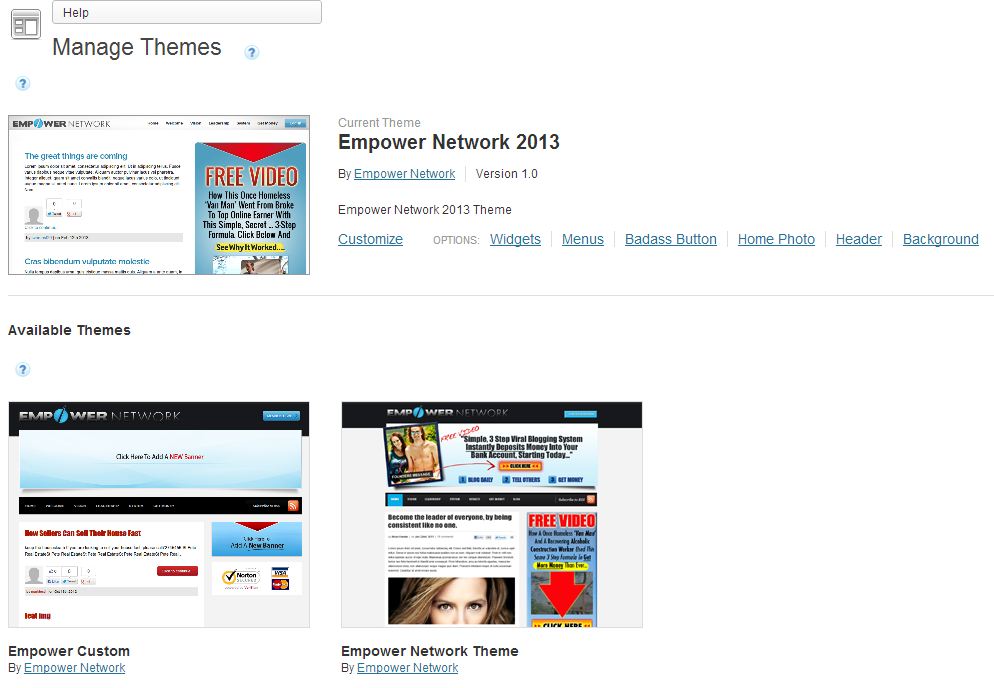 …and here is how the blog looks when you go to it live: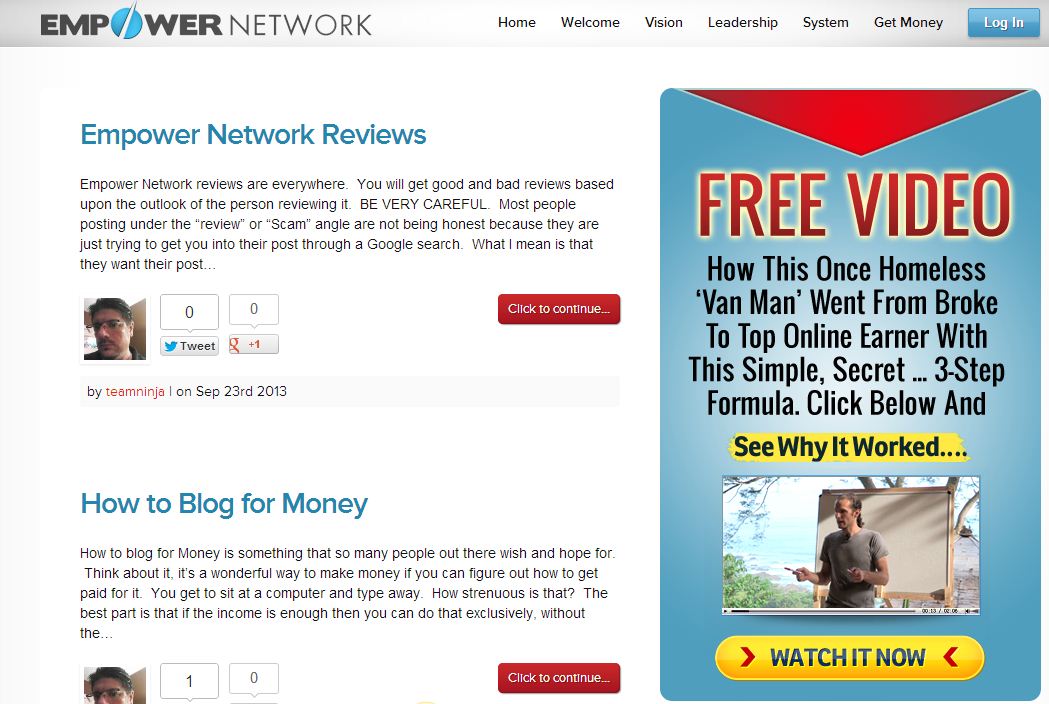 There are some pages that come with it that I left in place because they have great informational videos by the company founders embedded.  I also like the video link to the right.
The wonderful thing about the Empower Network blog is that no matter what you are blogging about, these alluring ads will captivate your readers who wonder how the "homeless van man" went from pauper to prince through online business.  It's all true stuff, by the way.  These guys really did fail for years in network and online marketing before gaining skills necessary to succeed online, and they've packed it all into Empower Network so that anyone can duplicate their success while avoiding those years of hard knocks.
So, the Empower Network blog is there and ready for you to start using it with the $25 blogging package.  You are then eligible to earn commissions for anyone who happens onto your blog and joins through your ad links.  It can be that easy.  Now there are strategies that you can use to increase your chances at drawing in web searchers.  It really depends on you.
I've put together a more detailed article describing the backend of the blog and how you use it to create the actual blog posts. That is a great starter for learning even more about the Empower Network blog building process.