The Empower Network Compensation Plan has changed and evolved over the years.
This page was updated in early 2017.
Here we go with the updated Empower Network Compensation Plan…
Here is an update, and below the line are historical writing on earlier versions.
I hope this helps and I am trying to keep this thing current.  –Tom
The Empower Network Compensation Plan
1st sale [trial or full price] = 80% to sponsor
2nd sale and on = 80% payout residually through the comp plan
Monthly fee/payout – $17 affiliate fee taken out and then 80% payout.
PACKAGES / PAYOUTS –
BASIC 47 – $17 fee, $30 left, $24 paid through comp plan [80%]
PRO 97 – $17 fee, $80 left, $64 paid through comp plan [80%]
ELITE 197 – $17 fee, $180 left, $144 paid through comp plan [80%]
PRODUCTS / PAYOUTS
VIP Personal Service (1 time upsell) 197 = $157 paid through comp plan [full 80%]
6-Figure Builder Club $997 = $797.60 paid through comp plan [full 80%]
Lifestyle Profits Academy $1,997 = $1,597.60 paid through comp plan [full 80%]
Mass Influence Formula $3500 = 80% One Time Purchase Payout
NOTE: The Mass Influence Formula is still not in this increased payout, only the products above.  We will be transitioning the MIF product soon.
So, let's take a second and go over some of that 🙂
Every first sale that you generate, be it a trial from a new member coming in, from an existing member upgrading to one of the Total Shortcut packages, or from purchasing any of our other One-Time products…
You EARN a total of 80%!
If you're already a member with Empower Network before we launched the Total Shortcut System and were active in the Affiliate System, you were automatically activated to earn commissions for ALL 3 packages for the Total Shortcut!
Yep, we are giving you that first sale instead of having to pass it up to your sponsor.  That means more mullaaa for you!
Let's start to go over the Affiliate Level Qualifications. We are super excited to tell you about this because we have done away with monthly qualifications. Remember those?
Stressing at the end of ever month, crunching to get that next rank?  Well… stress no more! 

These Affiliate Level payouts depend on how many active members you have for each specific package or product, take a look;
0-1 personally enrolled active = Accelerator, 20%
2 personally enrolled active = Producer, 25%
3 personally enrolled active = Builder, 35%
6 personally enrolled active = Boss, 40%
Boss plus 1 Boss = Boss Maker – qualification for later bonuses (see below).  In other words, if you qualify for boss + have a boss you qualify as boss maker.
9 personally enrolled active, 1 Boss Maker = Boss Maker Bronze, 45%  
Or 20 active personally enrolled total
12 personally enrolled active, 1 Bronze = Boss Maker Silver, 50%
Or 30 active personally enrolled total
"Hold on! Did you get that?!?!"
You are getting 35% commissions for having ONLY 3 personally enrolled active members!
What does that mean for you? Well, that 35% commissions is almost enough to cover your Total Shortcut – ELITE subscription… IN FULL!!
Now that we have gone over the to get into our UNILEVEL PAYOUTS that start with Boss Maker Silver making it even easier to earn the coveted UNILEVEL commission payouts!
Silver Boss Maker Generation #2 = 5%
Silver Boss Maker Generation #3 = 3%
Silver Boss Maker Generation #4 = 2%
The UNILINE payout is based on being Silver Boss Maker Plus income levels and is a leadership bonus.
Uni-Line Payout = 20%
BM Gold +5%, 2 generation 2.5%
BM Platinum +5%, 2 generation 2.5%
BM Diamond +10%, 2 generation 5%
REMEMBER: The payout percentages are based on the Total Shortcut System and being qualified on each package only.  Unqualified packages will skip unlimited levels…
---
So What Can the Empower Network Compensation Plan Do For Me?
I'm happy you asked.
Why and how are so many people drawn to the Empower Network Compensation Plan? As of October 2012 – after a year since the launch, approximately 45,000 paid affiliates are active and more than $14 million in commissions have been paid out.  After 2 years in operation, over $60 million in commissions have been paid out.
Empower Network pays a commission pursuant to the current compensation plan, which is available here. The data shown below is current for the date range shown and is updated frequently. Study our commission structure and the data below. Discuss our company with professional advisors and experienced affiliate marketers before deciding to purchase or promote any of Empower Network's products.
Empower Network does not guarantee that you will make any money from your use or promotion of our products and services.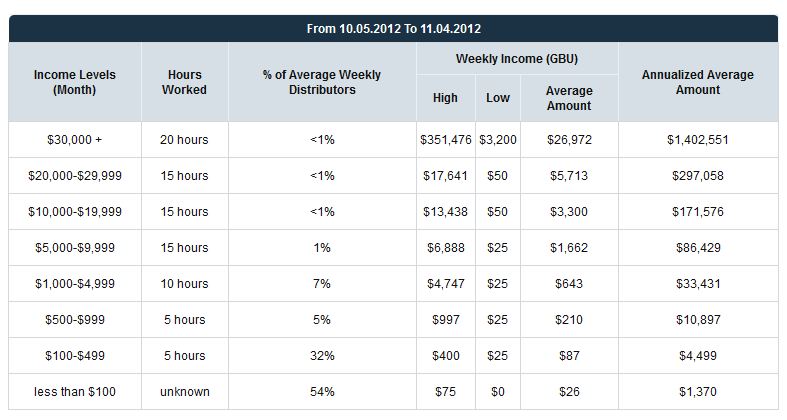 In the Empower Network compensation plan, every affiliate is passing up the 2nd, 4th, 6th and then every +5 member (11th, 16th, 21st, and so on) to the upline. It sounds a little unfair, however it works like a charm.
According to above income disclosure, approximately 45% of the affiliates make more than $25 per week (Low), or $1,300 per year, outperforming many other network marketing compensation plans.
How is that possible?
The answer may be gleaned from the graphic below, which explains the pass-up compensation plan.  Marco has signed up 3 affiliates Linda, Andre, and Jose and has a small down line of 19 people.
Marco gets paid over the 8 affiliates which are yellow. So Linda, Jose, Vinnie, Margo, K2, K4, P2 and P4.
Marco receives $200 in commission, total group sales is $475 so 42% is paid out to Marco.
$250 commission or 52% is paid to Marco´s down line and $25 flows to Marco´s up line. (Plus his own monthly subscription)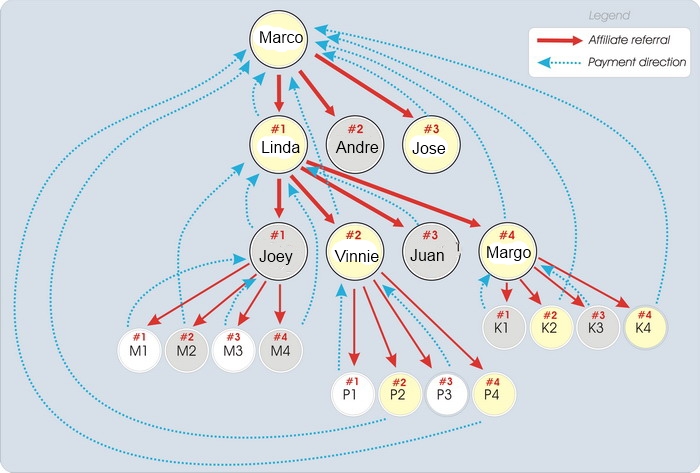 Let Dave Wood Explain it in his own words:
Conclusion
This Empower Network compensation plan pushes commissions to the front, which can explain the success of Empower Network.  With 1 sign up an affiliate has his own monthly subscription covered, and with a small group, affiliates are profitable. This doesn't exist in traditional Multi Level Marketing.
So, now knowing all of that, partner with me so that we can get this in motion.
…and you thought THAT was great?
The model above only demonstrated with the $25 product – the Empower Network viral blogging system.
There are other products that you are also eligible for 100% commissions when you yourself own them.
Do the math above while adding in $100/month residual Inner Circle program, or one time fee products that are $500, $1000, and $3500. ($3000 commission on The Master's Retreat)
Imagine getting a $3000 commission? … a $1000 Commission, or a $500 commission?
..or monthly recurring $100 commissions?
That is crazy good money.  You can learn more about the Empower Network Products too.
Some people ask, "How can the company make money paying out that much?  Empower Network was set up to make the most money for the members.  IT was never about making only the founders a lot of money.  The name says it all… EMPOWER Network.  They Empower US.
For the first 6 months in business Empower Network had no affiliate fee.  Dave Sharpe & Dave Wood had to use all of their personal money to keep the company going, so they instituted a monthly $19.95 non commissionable affiliate fee to pay for the company operations.
So have no fear, the company is solvent and operating like a fine tuned machine.
Update!!!!!!!!!
Things change and evolve, so while I will leave older information up here for reference, here is a current explanation of the plan.
Empower Network Compensation Plan
We are confident that our Compensation Plan is one of the best in the online marketing world.
When you start marketing your products to prospects, they are going to start wanting to sign up under you. This should be done with the affiliate link that you have in your Empower Network account (please keep in mind that your Affiliate account needs to be active in order to sign up members).
After your first member joins, they will appear as team members within your  "My Account" – "View Team" page. Congratulations! You have made your first sale and this member will stay in your frontline, being part of your OWN POWERLINE group.
According to our Compensation Plan, every affiliate is passing up the 1st, 3rd, 5th and then every +5 member after that (10th, 15th, 20th and so on). This means that your second direct signup will be "passed up" to your upline. The system remembers that you were the sponsor of that new member; but in the system it is being displayed as a "pass up", and the important thing about that is that this member will be a part of the POWERLINE group of your upline, but not you.
Sounds unfair? Not really… and here comes the good news:
Each of your own direct referral (i.e. your 2nd, 4th, 6th, 7th, 8th, 9th, 11th and so on) members, is part of your powerline group. This means that THEY WILL PASS UP their 1st, 3rd, 5th and then every +5 member (and so on) sale UP TO YOU. Then each of these passed up members will also pass up their 1st, 3rd, 5th and so on sale to you.
This gives incredible earning possibilities, and furthermore – it helps you build a group, and let your group work for you!
Lets see a small example here. Let's say that you have 10 people join under you, and each of these 10 members have another 10 join under them.
If there were no passups, you would only have 10 members in your downline, and that is all.
With the current compensation plan though, you will have… 28 members! Almost 3 times more, doesn't that sound good? This means that once you have a big group marketing the products, you might relax a little, and your group will just work for you!
Lets think a little bit more here… what if…
What if those last 10 members have another 10 join them? How big of a group are you going to have in that case?
In that case, you will have… 91 members!!! Isn't that just fantastic?
So, this compensation plan works for YOU and for YOUR BUSINESS. Passing up members to your upline is your contribution that will reward you later on, when you start getting your passups from your own downline!
With this plan you can earn, on the higher end above and beyond the blogging system referrals, the higher up products will earn you $350, $700, $2100, and $3000 commissions.
That's way better than those companies that sell soap, cosmetics, and health products.
Marketing educational products are worth their price in gold, and these really deliver, so get started today.