Empower Network marketing is a well known internet marketing company based in St. Petersburg, Florida.  It's led by two men both named Dave.  They are both long time internet marketers who struggled for years to break out and become successful.  They had varying levels of success in various companies before partnering up to form Empower Network.
That's the textbook definition…
Empower Network Marketing is the Answer for the Lonely Affiliate
A more appropriate definition would be that Empower Network marketing is a kick ass internet network marketing company that has created a strong opportunity for people who would normally stand no chance of success in this space with the ability to finally begin to earn money reselling the Empower products for 100% and very high commissions, depending on the product in question.
I was around before Empower.  It was a wasteland of garbage low paying affiliate programs where you had to literally roll your own everything.  Websites, landing pages, squeeze pages, etc.  When the average working person who wants to break into that sees what they're up against…  The fancy landing pages with  professionally created graphics and high end copywriting…  I still don't know how much of that is done.  So, you have to do all that yourself and then if you aren't relying on a low paying affiliate deal to sell, it's crappy PLR products or some "roll your own" product or service.
Now, I'm not saying that making money should be easy, but how is the part time internet marketer, who is holding down a job during the day, supposed to compete with that?
They can't.
Then I think about all of those network marketing deals that have been catering to the part time ambitious people for decades.  The Amways, Avons, Arbonnes, Primericas, etc.
Why not have something like that in the internet marketing space?  Empower Network marketing is that kind of answer!
I've read much of the hate literature out there about Empower.  There seem to be a few really skillful professional Empower haters out there, who suspiciously use those pages to promote their own deals.  I guess that's to be expected.  One guy out there goes on and on that Empower's Products aren't really products because it's only about the recruiting opportunity, so he calls it a scam.  Then when you read the lengthy comments section to his blog you notice several people bringing up Tony Robbins.  You know, "Big Tony".  Tony, the guy who has been selling personal development tools for years on television and now of course he's online like everyone else.  The guy is well respected and has coached CEO's and Presidents alike.  He even had a a few scenes in the hit movie, Shallow Hal.  At one point, this Empower hater blogger who uses that to sell his own deal answers one of the posts mentioning Tony Robbins with the gem that in his opinion they have no right to keep bringing up Anthony Robbins because, and I quote, "he himself is a scam."
How ya like them apples?  It tickles me pink.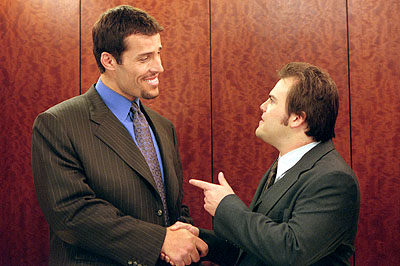 Tony Robbins with Jack Black in Shallow Hal
It's not enough that Empower Network marketing has income disclaimers plastered all over their website and even has it mentioned verbally in their audio recordings and plastered on their video products.  They encourage their own affiliates, like me, to put the same on our pages, which many of us do, since we are honorable and want to be COMPLIANT with the law.
Anyway, Empower Network marketing has got to be one of the most compliant and legit companies of this kind out there.  They pull no punches.  They sell products that they encourage you to buy yourself.  They have a wise policy that you can't get a commission on any product you don't own yourself, which is smart because it'd be pretty ridiculous for me to try to get someone else to buy something I myself don;t own.  It would be pretty unethical too.
Empower Network marketing has a generous compensation plan and holds several live events through the year for their affiliates to come and learn, as well as meet others and "percolate" together, since you get ideas from other people who are successful or who may be doing it a different way.
Empower Network marketing creates the products, the squeeze pages, the movie quality sales videos – the entire sales funnel.  They provide a payment processor and a way for you to hook one of two popular email autoresponder services up so that your leads get sent to your own list.  They pay 100% commissions on the monthly recurring products and either 100% or very high on the higher priced stuff.
Empower Network marketing allows us affiliates to create our own teams and wrap their opportunity with out own bonuses.  Take me, for example.  I know a lot of stuff.  I built this blog myself.  I know how to set up my own hosted blog, deal with domain names, we hosting, SEO keyword research – hey these are all things that you need to get familiar with if you want to be in internet marketing or Empower Network marketing.  Sure you can use your own EN blog that you'll have as part of the $25 entry level product when you join, and you can use that too, but we follow a slightly upgraded path that leads to better success and our own stuff hosted on our own assets, which gives a greater piece of mind that most of our data is ours.
That's not to say that Empower Network marketing doesn't have a good deal or plan.  What I am saying is that you should get in with people who are savvy and know the better ways.  I'm not alone either.  My mentor/sponsor/coach is more successful and full of great things so when you get me you kinda get him too, in a way.
So, partner with me and you too can get into the premier internet marketing network and hit the ground running.  It's hard work, like anything worthwhile in life.  I'll coach you and provide what you should do and suggest tools for you to use, but I won't hold your hand like a baby because a) I don't have time for that and b) I only want competent go getters on my team.
Sorry of that offends or turns people off, but I don't care if I turn off easily offended people who want constant hand holding and won;t do the necessary work anyway.  I want real badasses on my team because I want ti kick some ass.
So, if you think you have what it takes, partner with me.
See you on the flip side.