Most of you will never hear this from an experienced marketer, especially when they speak to those who are new to things.
So, I hope that you really read this intently and then explore other topics on this blog.
You really want to read this and understand it.
Stop resisting, and put away your scam radar, because this is real information that can make or break you if you are looking to make money over the internet.
I'm about to give you some tidbits that you could usually only get from buying an expensive course or spending plenty of money on several courses or digital products.
Read on, if you're serious about getting on the Internet Money Train, or even a Lamborghini…
So What's All this About a Sales Funnel?
What is a sales funnel?
There are several ways to approach the internet marketing thing, but the basic equation is as follows:
TRAFFIC + OPT INS + PRODUCT or SERVICE SALES + Recruits (when dealing with MLM) = INCOME for LIFE
Traffic = Internet people visiting your site and/or offers.
Opt Ins = People opting into your mail list – without a mail list you are already setting yourself up for failure.
PRODUCT or SERVICE Sales = You need a product and/or Services to sell online in order to generate income.
Recruits (MLM) – if you are dealing with any sort of multi level network marketing type of opportunity, then you will need people joining your organization in order for it to grow and generate income for you.
Income for Life is what you end up with when you have a system that pulls people into your SALES FUNNEL and into the conveyor belt of sales. A healthy email list can provide repeat sales. Offer real value to people, though.
Here is a simple graphic that illustrates a BASIC sales funnel.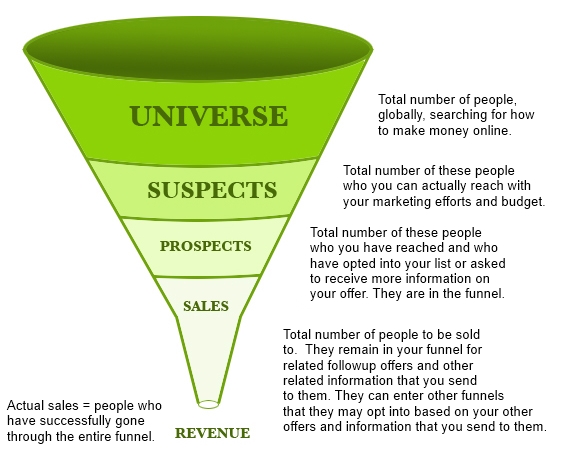 So, what I am telling you is that you need this but none of you who are new to the industry or are investigating how to make an income online either know about it or have something that you can use.
To invent your own products and sales funnels is how you had to do it in the old days. That requires a level of creativity that many people just don't have. Even if they have it, they may not have the time to figure out and implement it due to other commitments, like family or regular job (which they are trying to escape through the promise of online prosperity).
There are PLENTY of preexisting opportunities out there for you to choose from, but it can be overwhelming.
I mean, do you want real product to sell, do you want to have to buy and carry an inventory? Drop ship?
Digital products are the easiest and cleanest to deal with, because they do not require an inventory, they can be delivered immediately, and they provide the buyer with that quick immediate fix that they are looking for.
They scale easy as well.
There are thousands of reasons why digital products are the way to go.
Now, there is another factor, one that may affect you.
Not everybody has lots of up front money to invest in a maybe.
Perhaps they need to generate some income first before they upgrade to the top echelon of products and opportunities out there.
These people deserve to be catered to.
You may be one of them, or perhaps you need to cater to them in order to pull people through the prosperity tunnel, by first presenting them with something that has a super low barrier to entry that can get them earning quickly. They can then invest their earnings in scaling up their new online business.
You need a sales funnel because if you are relying on one off sales of some product to people, you will always be broke, AND you are then letting those people wander off to be serviced by another marketer.
The first thing that you need is an autoresponder service that you use in order to gather up email addresses and keep a mail list of your prospects. The most important thing in marketing, even before selling anything, is to BUILD YOUR LIST.
List building is the life blood of internet marketing, and all I can say is that you should not underestimate this or ignore its importance. Everyone who does lives to regret it.
The opting into the email list starts off the sales funnel. This is the actual entry point into a sales funnel.
So, you get people into your funnel and while they are in there, you offer them products or services along the way. This is a way to turn them into not only customers but repeat customers.
Without an effective sales funnel you shouldn't even waste your time trying to make money online.
It's THAT important.
Now, there are several types of funnels that you can use, but I have found the best one for new people, or just those who want to appeal to those who need to start earning NOW and also require a low cost barrier to entry.
I was seeing this complaint online A LOT from new marketers. Many people really need some income NOW and do not have the time to spend money on the necessities while figuring it out.
You see, with most opportunities, you can spend monthly affiliate and repeating product fees while trying to figure out how to sell and get people into your business.
That's not all.
Don't forget about the regular cost of doing business online, which can consist of domain name registration fees 9about $10 per year per domain once any specials are over), web hosting for websites and blogs (minimum is about $10-$20 per month), autoresponders (which can range from $19.95-$24.95 per month), affiliate fees (some companies charge a fee and this includes being able to accept payments, so you don't need your own expensive merchant account – again price varies, but can be up to $45 per month), and other recurring product subscription fees.
SO, you have to get it through your head that it DOES cost money to do business online, BUT it it A LOT cheaper than business startup and operation costs for regular traditional business, and when I say that I mean by an order of magnitude.
That being said, there is a need for people who do not have much startup capital to get going making money NOW.
I truly hope that those embarking choose to reinvest their profits to scale up, because it is ONLY in scaling up that you can make the kind of money that you need to CHANGE YOUR LIFE. Once you make some money, you can get an autoresponder of your own and tie that into this so that you can collect the email addresses pf prospects and market to them later on as well.
I've been searching far and wide, and I found a system that can make you money starting today, and it is a complete sales funnel that you can use to get your business going. It comes with a promotional link that you can drive FaceBook and other internet traffic to, so you don't need your own website to start.  You don't even need an email autoresponder because that's built in.
The great thing about this funnel is that everything that you need is contained within, so it's a one stop shop.
Use free traffic to start getting people into your new sales funnel.
FaceBook advertising and money making Groups and things like free safe lists are a good place to start with free traffic. Later on you can scale up to paid traffic like Bing Ads, Traffic Agencies, 7 Search.com, Facebook PPC, YouTube PPC, etc.
Pinterest is also shaping up to be a HUGE traffic source. Check that out too.
Blogging is a great thing, but SEO takes time and won't work right away. Getting free organic search traffic from the search engines takes time and effort and is not for the impatient or those who need to make money NOW. Your free sales funnel actually has an upsell built into it that contains a blogging system for you to take advantage of, so I am here presenting you with an ENTIRE internet marketing system ready to start and upgrade as you stat making money. You don't even need to look elsewhere.
I'm giving it to you straight here, so I hope that you appreciate the "cut through the crap" candor.
The free sales funnel is here, so check it out.
There's a complete sales funnel marketing system that you can use to build a massive list, and it has the whole suite of tools you'll ever need built in. That's sweet.
I wouldn't steer ya wrong.
Tom Connelly