Hey peeps.  Rumor has it that Big Bang Theory's Kaley Cuoco is pregnant, which is why she is said to have pulled off a quickie wedding on New Year's Eve 2013.  This chick is 28 years old and her boyfriend, now husband, is a 26 year old tennis player. Earlier speculation about them planning to wed was quashed by her because they are both so busy and he is trying to get his salary up.  Get this, she makes $350k per episode of the Big Bang Theory and he made about $23.9k last year as a tennis player. Ryan Sweeting is his name.  I'm totally not up on tennis so I have no idea how good this guy is.  He could technically make more than her if he ended up some big tennis champion, plus endorsements, but he's gotta be good for that.  According to the Wikipedia link, he's got a way to go.
So what does this guy do if tennis doesn't work out?  I mean, keeping up with Kaley, financially speaking, is a tough act to follow.  Now it's not that a husband should have to keep up with his wife in that department, but that's Hollywood over there. Those people are all glitz and glamour and have to look and act the part.  How is he going to feel at all those celebrity affairs and out in public with the paparazzi watching if he's making less per year than MANY fellow Americans?
Now a baby is on the way?  If Ryan doesn't want to end up the stay at home baby daddy then he'd better step up his tennis game or find a better paying gig.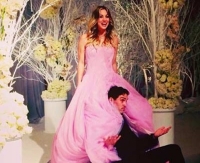 Needless to Say, Kaley Cuoco can Certainly Afford to Have a Child
I'm not really making fun here.  They are a very attractive couple and of course I wish them all the best.  I just can't get out of my head that this poor sap makes less than $25k per year.
I wonder if it's just a case of, "My mama signs all my checks!" Nah…
I dunno if Ryan is nervous at all, but anyone can get nervous when big life changes are on the horizon and money is involved. Ryan is lucky though because him making money at this point is more for his own self respect or to look good in public, or to avoid being labelled as a "kept man".  They have Kaley's very healthy pay and fortune to live on, so the baby will be well cared for.
Are your children's futures as safe as Kaley's baby to be? (if she's really pregnant)
Yes I'm kinda gettin at the money thing.  I can't help but think that I would be remiss if I didn't steer the thought train (Woo Woo!) in that direction for a bit.
Ryan is too busy training for tennis and possibly for fatherhood for this, but even if you have a full time job you can get started on a part time second income stream from home.
That's what I do and that's what thousands of smart people are doing today, rather than waiting for the latest job layoff.  Ryan Sweeting can afford t get laid off or not have a job, YOU can't.  I target my writing for fellow marketers as well as new marketers or people considering internet marketing and/or MLM.
Do you guys/gals HEAR me out there??
It's a real nice feeling for Kaley Cuoco when she looks at her bank balance.  That's golden right there.  A bursting at the seams bank account with lots of fresh greenbacks coming in all the time.  Well, you can have that too.  She does it in entertainment and you can do it in marketing.  you actually have a much larger audience than she does, so you can make up the difference in volume. Remember, she's mostly TV – if she goes to movies making mutli millions per gig then okay she's got you all beat.  But seriously, I'm speaking to the feeling of satisfaction that can only come from KNOWING that you and yours are taken care of.  You get that from the security of knowing that you have resources and more coming in all the time, via an internet connected method that works.
It's not like you can just go pimp for a living, and even that has it's drawbacks.
Tell me what ya think about Kaley Cuoco and Ryan Sweeting's possible parenthood below.